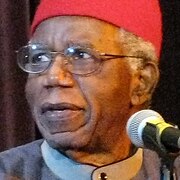 Chinua Achebe
(1930–2013)
Conhecimento Comum
Nome legal

Data de nascimento

Data de falecimento

Localização do túmulo

Sexo

Nacionalidade

Local de nascimento

Local de falecimento

Locais de residência

Ogidi, Nigeria
Nekede, Nigeria
Umuahia, Abia State, Nigeria
Oba, Nigeria
Lagos, Nigeria
Enugu, Nigeria (

mostrar todos

12)
Aba, Biafra
Nsukku, Nigeria
Nneobi, Nigeria
Annandale, New York, USA
Massachusetts, USA
Providence, Rhode Island, USA

Educação

Ocupações

Relações

Organizações

Prémios e menções honrosas

Booker Prize (2007)
Visiting professorship (University of Massachusetts-Amherst ∙ University of Connecticut ∙ UCLA)
Friedenspreis des Deutschen Buchhandels (2002)
American Academy and Institute of Arts and Letters. Honorary Fellowship.
Nigerian National Merit Award


Fatal error: Call to undefined function isLitsy() in /var/www/html/inc_magicDB.php on line 425


Chinua Achebe was born in Nigeria in 1930. He was raised in the large village of Ogidi, one of the first centers of Anglican missionary work in Eastern Nigeria, and was a graduate of University College, Ibadan.

His early career in radio ended abruptly in 1966, when he left his post as Director of External Broadcasting in Nigeria during the national upheaval that led to the Biafran War. He was appointed Senior Research Fellow at the University of Nigeria, Nsukka, and began lecturing widely abroad.

From 1972 to 1976, and again in 1987 to 1988, Mr. Achebe was Professor of English at the University of Massachusetts, Amherst, and also for one year at the University of Connecticut, Storrs.

Cited in the London Sunday Times as one of the "1,000 Makers of the Twentieth Century" for defining "a modern African literature that was truly African" and thereby making "a major contribution to world literature," Chinua Achebe published novels, short stories, essays and children's books. [adapted from Things Fall Apart, c1959, 1994 printing Anchor Books Ed.]

Mr. Achebe received numerous honors from around the world including more than twenty honorary doctorates from universities in England, Scotland, the United States, Canada, and Nigeria.

Latterly Mr. Achebe lived with his wife in Annandale, New York, where they both taught at Bard College. They had four children.
Estatísticas
Obras

51

Also by

18

Membros

27,821

Popularidade

#732

Avaliação

3.8
Críticas

569

ISBN

410

Línguas

25

Marcado como favorito

44