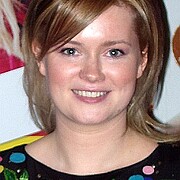 Conhecimento Comum
Data de nascimento

Sexo

Nacionalidade

Local de nascimento

Locais de residência

Educação

Ocupações

Relações

Prémios e menções honrosas


Fatal error: Call to undefined function isLitsy() in /var/www/html/inc_magicDB.php on line 425


Cecelia Ahern was born on September 30, 1981 in Dublin, Ireland. She is the daughter of Bertie Ahern, Irish Taoiseach (Prime Minister) since June 26,1997, and is the sister-in-law of Nicky Byrne of Irish popgroup Westlife, who is married to her older sister, Georgina Ahern. In 2000, Cecelia was part of the Irish pop-group Shimma, who finished third in the Irish national final for the Eurovision Song Contest. Before embarking on her writing career, Cecelia Ahern completed a Degree in Journalism and Media Communications.

At twenty-one, she wrote her debut novel PS, I Love You, published in January 2004, which was sold to over forty countries. The novel was one of the biggest-selling debut novels of 2004, reaching No.1 in Ireland and in the U.K. Sunday Times bestseller list and was selected for the Richard and Judy Summer Read campaign. It was also a bestseller throughout Europe and the U.S.A., staying on the best-seller list in Germany for over 52 weeks. For her debut novel, she was nominated for Best Newcomer 2004/05 at the British Book and in 2006, she was long-listed for the IMPAC award. The film of the same title was optioned by Warner Bros and Wendy Finerman Productions. It has now been made into a motion picture directed by Richard LaGravenese and starring Hilary Swank, Lisa Kudrow, Kathy Bates, Gerry Butler, Harry Connick Jr., Gina Gershon and Jeffrey Dean Morgan.

In November 2004, her second book, Where Rainbows End (U.S.A.: Love, Rosie / Rosie Dunne), also reached No.1 in Ireland and the UK, remaining at the top of the Irish bestsellers list for 12 weeks and again a bestseller internationally. For her second book, she won the 2005 Irish Post Award for Literature and a 2005 Corine Award for Where Rainbows End (Fur Immer Viellecht), which was voted by German readers. In November 2005, her third book, If You Could See Me Now was published and also became an international bestseller. In May 2007 Cosmopolitan U.S. honoured her with a Fun Fearless Fiction Award 2007 for her thrid book. It has been optioned by SB Films (London) Producer Simon Brooks.

In October 2006, her fourth novel, A Place Called Here, was a international number one bestseller and has gone straight to No.1 in U.K. and Ireland. It was published in U.S.A. under the title There's No Place Like Here. It is optioned by Touchstone with Warren Littlefield for a TV Drama series.

Cecelia has contributed with short stories to the following anthologies for which all her royalties go to charity: Irish Girls are Back in Town, Short and Sweet, Moments, Ladies Night 4, Girls Night in 2 and she has written a novella titled Mrs. Whippy.

Other published stories are The Production Line for Express Magazine, Every Year for Harrod's Magazine, The Things That I Remember for Woman's Own, Remembering Mum for Express Magazine, Mallard and May for Woman and Home.

Cecelia also is the co-creater (along with Donald Todd) and producer of the ABC half-hour comedy television show, Samantha Who? Stars: Christina Applegate, Jean Smart, Jennifer Esposito, Barry Watson, Kevin Dunn, Melissa McCarthy and Tim Russ.

Cecelia Ahern continues living in Dublin and is currently writing her next novel.
Estatísticas
Obras

63

Also by

9

Membros

20,938

Popularidade

#1,033

Avaliação

3.9
Críticas

806

ISBN

940

Línguas

28

Marcado como favorito

66

Pedras de toque

232