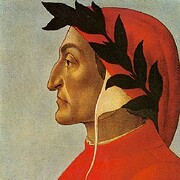 Conhecimento Comum
Nome canónico

Nome legal

Outros nomes

Data de nascimento

Data de falecimento

Localização do túmulo

Sexo

Nacionalidade

País (no mapa)

Local de nascimento

Local de falecimento

Locais de residência

Ocupações

Relações

Organizações


Fatal error: Call to undefined function isLitsy() in /var/www/html/inc_magicDB.php on line 425


Dante Alighieri, (May 14/June 13, 1265 – September 13/14[1], 1321), was a Florentine Italian poet. Like many in the Florence of his day, he became involved in the conflict between the Guelph and Ghibelline factions. He fought in the Battle of Campaldino (1289) and held several political offices over the years. His central work, the Divina Commedia (Divine Comedy, originally called "Comedìa"), is composed of three parts: the Inferno, Purgatory, and Paradise. Dante was exiled from the city he loved, and addressed the pain of his loss in his work.

Nota de desambiguação

Since there are other authors called Dante, the works of Dante Alighieri on that author page are now aliased here, instead of the pages being combined.
Estatísticas
Obras

669

Also by

37

Membros

64,384

Popularidade

#219

Avaliação

4.1
Críticas

544

ISBN

2,483

Línguas

35

Marcado como favorito

197

Acerca

3

Pedras de toque

808