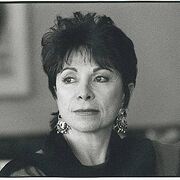 Conhecimento Comum
Data de nascimento

Sexo

Nacionalidade

País (no mapa)

Local de nascimento

Locais de residência

Ocupações

Relações

Organizações

Prémios e menções honrosas

Gabriela Mistral Order of Merit (1994)
Feminist of the Year Award ( [1994])
Honorary Doctorate (Letters ∙ Bates College ∙ 1994)
Honorary Citizen (Austin ∙ Texas ∙ USA ∙ 1995)
Read About Me Literary Award ( [1996])
Dorothy and Lilian Gish Prize (

mostrar todos

7)
Hans Christian Andersen Deense Literatuurprijs (2012)


Fatal error: Call to undefined function isLitsy() in /var/www/html/inc_magicDB.php on line 425


Born in Peru and raised in Chile, Isabel Allende is the author of eight novels, including, most recently, Violeta, Zorro, Portrait in Sepia, and Daughter of Fortune. She has also written a collection of stories; three memoirs, including My Invented Country and Paula; and a trilogy of children's novels. Her books have been translated into more than twenty-seven languages and have become bestsellers across four continents. In 2004 she was inducted into the American Academy of Arts and Letters. Isabel Allende lives in California.

Nota de desambiguação

Isabel Allende Llona (b. 1942), Chilean born novelist (US citizen since 2003).
Do not confuse with María Isabel Allende Bussi (b. 1945), daughter of former Chilean president Salvador Allende; cousin of the novelist.
Estatísticas
Obras

109

Also by

44

Membros

71,852

Popularidade

#176

Avaliação

3.8
Críticas

1,764

ISBN

2,316

Línguas

38

Marcado como favorito

312