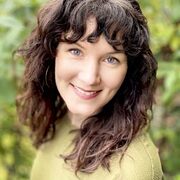 Conhecimento Comum
Sexo

Nacionalidade

Locais de residência


Fatal error: Call to undefined function isLitsy() in /var/www/html/inc_magicDB.php on line 425


[excerpted from author's website]
I spent most of my childhood outdoors, climbing Douglas Firs and spotting fairies on our heavily-treed half-acre. I forest bathed every damn day, relishing both the adventure and the deep calm provided by the natural world just outside my door.

In 2005 merged my two loves—writing, and gardening—and put my English degree to better use than the advertising copywriting I was then doing. I went on to earn a certificate in garden design from the University of British Columbia, author two books on creating small-space edible gardens, speak across the United States and Canada, and contribute to a variety of magazines and publications. I was the garden columnist for Edible Vancouver for several years, winning a Silver Award of Achievement from the Garden Writers Association.

I live in Vancouver, Canada with my husband and children, where I grow a wide range of organic edibles, along with blooms for Small Patch Flowers, a social enterprise planted in 2019.