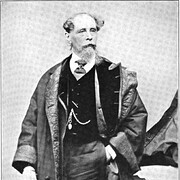 Conhecimento Comum
Nome legal

Outros nomes

Data de nascimento

Data de falecimento

Localização do túmulo

Sexo

Nacionalidade

País (no mapa)

Local de nascimento

Local de falecimento

Causa da morte

Locais de residência

Landport, Portsmouth, Hampshire, Engeland, Verenigd Koninkrijk
Chatham, Kent, Engeland, Verenigd Koninkrijk
16 Bayham Street, Camden Town, London, Engeland, Verenigd Koninkrijk
Gad's Hill Place, Higham, Kent, Engeland, Verenigd Koninkrijk
Tavistock House, Tavistock Square, Bloomsbury, London, Engeland, Verenigd Koninkrijk

Educação

Ocupações

Novel·lista
Escriptor de contes
Poeta
Dramaturg
Assagista
Editor (

mostrar todos

10)
Periodista
Taquígraf
law clerk
packer (boot-blacking)

Relações

Dickens, Monica (achterkleindochter)
Dickens, Charles, Jr. (zoon)
Dickens, Cedric (achterkleinzoon)
Hawksley, Lucinda (achter-achter-achterkleindochter)
Forster, John (biograaf)
Dickens, Sir Henry F. (zoon)


Fatal error: Call to undefined function isLitsy() in /var/www/html/inc_magicDB.php on line 425


Charles John Huffam Dickens (7 February 1812 – 9 June 1870) was an English writer and social critic. He created some of the world's most well-known fictional characters and is generally regarded as the greatest novelist of the Victorian period. During his life, his works enjoyed unprecedented popularity, and by the twentieth century he was widely seen as a literary genius by critics and scholars. His novels and short stories continue to be widely popular.