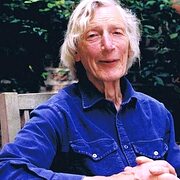 Conhecimento Comum
Nome legal

Outros nomes

Data de nascimento

Data de falecimento

Sexo

Nacionalidade

País (no mapa)

Local de nascimento

Local de falecimento

Locais de residência

Educação

Ocupações

Relações

Organizações

Prémios e menções honrosas

Agente


Fatal error: Call to undefined function isLitsy() in /var/www/html/inc_magicDB.php on line 425


Peter Dickinson was born and raised in Livingstone, Northern Rhodesia (now Zambia). He received his Bachelor of Arts degree at King's College, Cambridge in 1951. He not only served in the British Army, but also as assistant editor and reviewer for Punch Magazine for seventeen years.
He has written several novels for adults, a television series for juveniles and many books for young people. Keeping track of the audience for whom he is writing is not a problem. He knows the voice in which he is writing and does not have to constantly remind himself. Many of his protagonists are female. He says, "...women are more observant. I think that girls are much more aware of social matters than boys, and therefore make much more interesting observers."

Over the years, Peter Dickinson has won many awards for his novels. In 1982 he was placed on the International Board of Books for Young People Honor List for Tulku and The Iron Lion was selected one of New York Times Notable Books. In 1989 he won the Boston Globe'Horn Book Award for Eva.
Estatísticas
Obras

86

Also by

14

Membros

9,543

Popularidade

#2,522

Avaliação

3.8
Críticas

236

ISBN

676

Línguas

13

Marcado como favorito

27