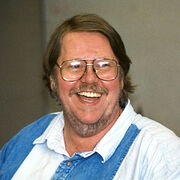 Gardner Dozois
(1947–2018)
Conhecimento Comum
Nome legal

Outros nomes

Data de nascimento

Data de falecimento

Sexo

Nacionalidade

Local de nascimento

Local de falecimento

Causa da morte

Locais de residência

Educação

Ocupações

Organizações

Prémios e menções honrosas

SF Hall Of Fame (2011)
Locus Award Finalist (Editor, 2017)
Locus Award (Editor, 2019)
Hugo (Best Editor - Short Form, 2019)

Agente

Nota de desambiguação

Dozois' popular series The Year's Best Science Fiction has been reprinted as Best New SF and The Mammoth Book of Best New SF in the UK with different numbers than the US series. Some of the US volumes have never been reprinted in the UK. Some volumes have been reprinted in Australia under the names The Giant Book of Fantastic SF and The Giant Book of Modern SF (and possibly others).
Dozois' Best Science Fiction Stories of the Year is an unrelated series.
Estatísticas
Obras

581

Also by

85

Membros

31,275

Popularidade

#630

Avaliação

3.7
Críticas

564

ISBN

604

Línguas

13

Marcado como favorito

7