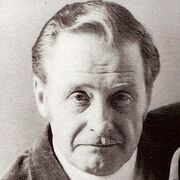 David Eddings
(1931–2009)
Conhecimento Comum
Nome legal

Outros nomes

Data de nascimento

Data de falecimento

Sexo

Nacionalidade

Local de nascimento

Local de falecimento

Causa da morte

Locais de residência

Spokane, Washington, USA
Carson City, Nevada, USA
Denver, Colorado, USA
Seattle, Washington, USA (Puget Sound area)

Educação

Reed College (BA)
University of Washington (MA)
Everett Junior College (majored in speech, drama and English)

Ocupações

Relações

Organizações


Fatal error: Call to undefined function isLitsy() in /var/www/html/inc_magicDB.php on line 425


David Carroll Eddings (July 7, 1931 – June 2, 2009 was an American fantasy writer. With his wife Leigh, he authored several best-selling epic fantasy novel series, including The Belgariad (1982–84), The Malloreon (1987–91), The Elenium (1989–91), The Tamuli (1992–94), and The Dreamers (2003–06).

Part Cherokee and born in Spokane, Washington, to George Wayne Eddings and Theone (Berge) Eddings, in 1931, Eddings grew up near Puget Sound in the City of Snohomish. After graduating from Snohomish High School in 1949, he worked for a year before majoring in speech, drama and English at junior college. Eddings displayed an early talent for drama and literature, winning a national oratorical contest, and performing the male lead in most of his drama productions. He graduated with a BA from Reed College in 1954. He wrote a novel for a thesis at Reed College before being drafted into the U.S. Army. (He had also previously served in the National Guard.) After being discharged in 1956, Eddings attended the graduate school of the University of Washington in Seattle for four years, graduating with an MA in 1961. Eddings then worked as a purchaser for Boeing, where he met his future wife. Through most of the 1960s, Eddings worked as a lecturer at Black Hills State College in South Dakota.

Nota de desambiguação

Leigh Eddings is David's wife and not the same person. Please do not combine David with Leigh, or with the various combinations of their names.
Estatísticas
Obras

94

Membros

110,587

Popularidade

#76

Avaliação

3.8
Críticas

849

ISBN

1,053

Línguas

18

Marcado como favorito

317