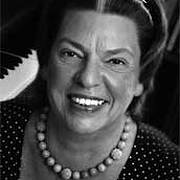 Conhecimento Comum
Nome canónico

Data de nascimento

Sexo

Nacionalidade

Local de nascimento

Locais de residência

Educação

Ocupações

Organizações

University of California Santa Barbara
Mediaeval Academy of America
American Historical Association
Medieval Association of the Pacific
West Coast Association of Women Historians
Phi Beta Kappa


Fatal error: Call to undefined function isLitsy() in /var/www/html/inc_magicDB.php on line 425


Carolly Erickson is a distinguished biographer and historian as well as an historical novelist. She writes primarily about famous women in European history. "I have found the past compelling since the age of fourteen or so," she once remarked. Even before she began her undergraduate work in history at the University of Washington, she had "a feeling I might some day write history for the general reader." To support herself, she has played the piano in cocktail lounges in New York City. She currently spends part of her year in Hawaii and part in the Lake Chelan Valley in Washington State.
Estatísticas
Obras

38

Also by

1

Membros

7,870

Popularidade

#3,088

Avaliação

3.5
Críticas

191

ISBN

283

Línguas

12

Marcado como favorito

12

Pedras de toque

162