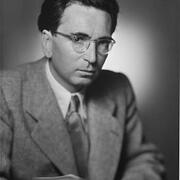 Viktor Frankl
(1905–1997)
Conhecimento Comum
Nome canónico

Nome legal

Outros nomes

Data de nascimento

Data de falecimento

Localização do túmulo

Sexo

Nacionalidade

Local de nascimento

Local de falecimento

Causa da morte

Locais de residência

Educação

Ocupações

Relações

Organizações

Prémios e menções honrosas


Fatal error: Call to undefined function isLitsy() in /var/www/html/inc_magicDB.php on line 425


Victor E. Frankl was born in Vienna, Austria. He studied medicine at the University of Vienna and later specialized in neurology and psychiatry. His early work was influenced by his contacts with Sigmund Freud and Alfred Adler, although he would later diverge from their teachings. After surviving three years in Nazi concentration camps during World War II, Dr. Frankl returned to Vienna and wrote more than 30 books. He married for the second time to Eleonore Katharina Schwindt (his first wife Tilly Grosser was killed in Bergen-Belsen) and the couple had a daughter. In 1948, he earned a Ph.D. in philosophy with a dissertation on the relationship between psychology and religion. In 1955, he was awarded a professorship of neurology and psychiatry at the University of Vienna, and a visiting professorship at Harvard University. He lectured and taught seminars in many countries around the world.
Estatísticas
Obras

68

Also by

3

Membros

17,856

Popularidade

#1,231

Avaliação

4.2
Críticas

341

ISBN

496

Línguas

32

Marcado como favorito

30

Pedras de toque

184