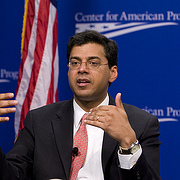 Conhecimento Comum
Nome canónico

Data de nascimento

Sexo

Nacionalidade

Local de nascimento

Locais de residência

Educação

Stanford University
Harvard Medical School (M.D.)
Harvard School of Public Health (M.P.H.)
Oxford University (Balliol College, P.P.E.)

Ocupações

Organizações

Prémios e menções honrosas

Agente


Fatal error: Call to undefined function isLitsy() in /var/www/html/inc_magicDB.php on line 425


Atul Gawande was born in Brooklyn. He obtained his undergraduate degree at Stanford University. As a Rhodes Scholar, he spent a year at Oxford University. After two years at Harvard Medical School he left to become Bill Clinton's health care lieutenant during the 1992 campaign, and became a senior adviser in the Department of Health and Human Services after President Clinton's inauguration. He returned to medical school and earned his M.D in 1994, as well as an M.P.H. from the Harvard School of Public Health. He practices general and endocrine surgery at Brigham and Women's Hospital in Boston and is director of Ariadne Labs, a joint center for health systems innovation. He is Professor in the Department of Health Policy and Management at the Harvard School of Public Health and Professor of Surgery at Harvard Medical School. He is also a staff writer on medicine and science for the New Yorker.
Estatísticas
Obras

13

Also by

14

Membros

13,997

Popularidade

#1,643

Avaliação

4.2
Críticas

555

ISBN

128

Línguas

17

Marcado como favorito

38

Pedras de toque

648