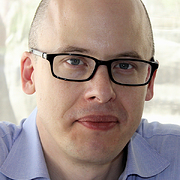 Conhecimento Comum
Nome canónico

Data de nascimento

Sexo

Nacionalidade

Local de nascimento

Locais de residência

Educação

Relações

Grossman, Austin (twin brother)
Grossman, Allen R. (father)
Grossman, Judith (mother)
Gee, Sophie (wife)
Grossman, Bathsheba (sister)

Organizações

Prémios e menções honrosas


Fatal error: Call to undefined function isLitsy() in /var/www/html/inc_magicDB.php on line 425


Lev Grossman is an American novelist and journalist. He was the book critic and lead technology writer at Time magazine from 2002 to 2016.

Grossman was born on June 26, 1969 in Concord, Massachusetts. He is the twin brother of video game designer and novelist Austin Grossman, brother of sculptor Bathsheba Grossman, and son of the poet Allen Grossman and the novelist Judith Grossman. He is an alumnus of Lexington High School and Harvard College. He graduated from Harvard in 1991 with a degree in literature. Grossman then attended a Ph.D. program in comparative literature for three years at Yale University, but dropped out before completing his dissertation.
Estatísticas
Obras

24

Also by

30

Membros

19,404

Popularidade

#1,124

Avaliação

3.8
Críticas

1,070

ISBN

200

Línguas

15

Marcado como favorito

29

Pedras de toque

580