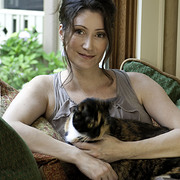 Conhecimento Comum
Data de nascimento

Sexo

Nacionalidade

Local de nascimento

Locais de residência

Chicago, Illinois, USA
Ottawa, Ontario, Canada
London, Ontario, Canada
Asheville, North Carolina, USA
Grayslake, Illinois, USA

Educação

Ocupações

Relações


Fatal error: Call to undefined function isLitsy() in /var/www/html/inc_magicDB.php on line 425


Sara Gruen (born 1969 in Vancouver is an author with dual Canadian and U.S. citizenship. Her books deal greatly with animals and she is a supporter of numerous charitable organizations that support animals and wildlife. She is a 2007 recipient of the Alex Awards.

Gruen was born in Vancouver, British Columbia. She grew up in London, Ontario, and attended Carleton University in Ottawa to get a degree in English Literature. She continued to live in Ottawa for 10 years after graduation.

Gruen moved to the United States from Ottawa in 1999 in order to take a technical writing job. When she was laid off two years later, she decided to try writing fiction. Gruen is an animal lover; both her first novel, Riding Lessons, and her second novel, Flying Changes, involve horses. Gruen's third book, the 1930s circus drama Water for Elephants, was initially turned down by her publisher at the time, Avon Books; as a result, Gruen was forced to find another publisher, Algonquin Books of Chapel Hill. It went on to become a New York Times bestseller and is now available in 45 languages and as a 2011 film adaptation starring Reese Witherspoon, Christoph Waltz, and Robert Pattinson. Her fourth novel, Ape House, centers around the Bonobo ape and was sold to Spiegel & Grau on the basis of a 12-page summary. Ape House is published by Two Roads Books. Her fifth novel, At the Water's Edge, was published in 2015.
Estatísticas
Obras

10

Also by

2

Membros

34,391

Popularidade

#551

Avaliação

4.0
Críticas

1,553

ISBN

243

Línguas

20

Marcado como favorito

37