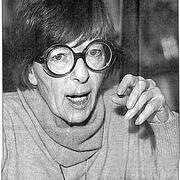 Conhecimento Comum
Data de nascimento

Data de falecimento

Localização do túmulo

Sexo

Nacionalidade

Local de nascimento

Local de falecimento

Ocupações

Relações


Fatal error: Call to undefined function isLitsy() in /var/www/html/inc_magicDB.php on line 425


Helene Hanff was born in Philadelphia, Pennsylvania. Her parents loved the theater and even during the Great Depression managed to find ways to get tickets to shows for the family. She grew up wanting to become a playwright. Her literary career began in 1938, when she won a competition for a fellowship from the Bureau of New Plays and moved to Manhattan. There she became a protégé of Theresa Helburn, a co-producer of the Theater Guild. However, although she wrote 20 plays through the 1940's, none were produced. She later described her struggles in a 1961 memoir, Underfoot in Show Business. She found a new career writing for television when production of the new medium was centered in New York City in the early 1950s. Among the TV dramas she wrote for were The Adventures of Ellery Queen. All the while, she continued to try to get one of her plays produced on Broadway. When the bulk of the TV industry moved to California, Hanff chose to remain in New York. She turned to writing for magazines and eventually to books. Her hugely popular epistolary work 84, Charing Cross Road, first published in 1970, chronicled her 20 years of correspondence with Frank Doel, the chief buyer for Marks & Co., a London bookshop. She became so involved in the lives of the shop's staff that she sent them food parcels during Britain's post-World War II shortages, and shared with them details of her life. A TV adaptation aired in Britain in 1975, a film version was made in 1987 starring Anne Bancroft, and a Broadway play was produced in 1982. Hanff wrote several other works, and put her obsession with Sir Arthur Quiller-Couch to use in a book called Q's Legacy (1985), which served as a prequel to 84 Charing Cross Road and also recounted the aftermath of her book The Duchess of Bloomsbury Street (1973). Other books included Apple of My Eye (1977) and Letter from New York (1992), which reprinted the five-minute talks she gave each month on the BBC's Woman's Hour radio broadcasts between 1978 and 1984. Underfoot in Show Business was adapted as a stage play in 2008 and produced at the Devonshire Theatre in Eastbourne, UK.
Estatísticas
Obras

27

Also by

2

Membros

9,938

Popularidade

#2,395

Avaliação

4.2
Críticas

490

ISBN

147

Línguas

14

Marcado como favorito

85

Acerca

1

Pedras de toque

1,087