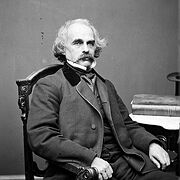 Nathaniel Hawthorne
(1804–1864)
Conhecimento Comum
Nome legal

Outros nomes

Data de nascimento

Data de falecimento

Localização do túmulo

Sexo

Nacionalidade

Local de nascimento

Local de falecimento

Locais de residência

Salem, Massachusetts, USA (birth)
Concord, Massachusetts, USA
Plymouth, New Hampshire, USA (death)
West Roxbury, Massachusetts, USA
Rock Ferry, England, UK
Brook Farm, Boston, Massachusetts, USA

Educação

Ocupações

Relações

Hawthorne, Julian (son)
Lathrop, Rose Hawthorne (daughter)
Hawthorne, Hildegarde (granddaughter)
Hawthorne, Sophia Peabody (wife)
Peabody, Elizabeth Palmer (sister-in-law)
Melville, Herman (friend) (

mostrar todos

12)
Pierce, Franklin (friend)
Holmes, Oliver Wendell, Sr. (friend)
Longfellow, Henry Wadsworth (friend)
Hillard, George Stillman (friend)
Bridge, Horatio (friend)
Alcott, Louisa May (student)

Organizações

Prémios e menções honrosas


Fatal error: Call to undefined function isLitsy() in /var/www/html/inc_magicDB.php on line 425


Nathaniel Hawthorne (July 4, 1804 – May 19, 1864) was an American novelist, dark romantic, and short story writer. His works often focus on history, morality, and religion.

He was born in 1804 in Salem, Massachusetts, to Nathaniel Hathorne and the former Elizabeth Clarke Manning. His ancestors include John Hathorne, the only judge involved in the Salem witch trials who never repented of his actions. He entered Bowdoin College in 1821, was elected to Phi Beta Kappa in 1824, and graduated in 1825. He published his first work in 1828, the novel Fanshawe; he later tried to suppress it, feeling that it was not equal to the standard of his later work. He published several short stories in periodicals, which he collected in 1837 as Twice-Told Tales. The next year, he became engaged to Sophia Peabody. He worked at the Boston Custom House and joined Brook Farm, a transcendentalist community, before marrying Peabody in 1842. The couple moved to The Old Manse in Concord, Massachusetts, later moving to Salem, the Berkshires, then to The Wayside in Concord. The Scarlet Letter was published in 1850, followed by a succession of other novels. A political appointment as consul took Hawthorne and family to Europe before their return to Concord in 1860. Hawthorne died on May 19, 1864, and was survived by his wife and their three children.

Much of Hawthorne's writing centers on New England, many works featuring moral metaphors with an anti-Puritan inspiration. His fiction works are considered part of the Romantic movement and, more specifically, dark romanticism. His themes often center on the inherent evil and sin of humanity, and his works often have moral messages and deep psychological complexity. His published works include novels, short stories, and a biography of his college friend Franklin Pierce, the 14th President of the United States.

Nota de desambiguação

Hawthorne added the 'w' to his last name out of guilt and shame due to the fact that his ancestor was Judge Hathorne at the famous Salem Witch Trials.
Estatísticas
Obras

769

Also by

216

Membros

67,063

Popularidade

#201

Avaliação

3.5
Críticas

727

ISBN

3,380

Línguas

30

Marcado como favorito

154

Acerca

1

Pedras de toque

1,423