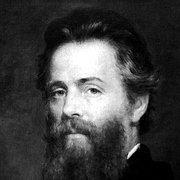 Herman Melville
(1819–1891)
Conhecimento Comum
Nome canónico

Nome legal

Outros nomes

Data de nascimento

Data de falecimento

Localização do túmulo

Sexo

Nacionalidade

Local de nascimento

Local de falecimento

Causa da morte

Locais de residência

New York, New York, USA [1819-1830]
Albany, New York, USA [1830-1838]
Troy, New York, USA [1838]
merchantman St. Lawrence [1839]
whaling ship Acushnet [1841]
whaling ship Charles & Henry (

mostrar todos

7)
Pittsfield, Massachusetts, USA

Educação

New York Male School (1825)
Columbia Grammar School (1829-1830)
Albany Classical School (1835)
Albany Academy (1830-1831)
Albany Academy (1836-1837)
Lansingburgh Acadamy (1838)

Ocupações

bank clerk (1832-1834)
sailor
harpooner, whaleship Charles & Henry
farm hand (1834-1835)
novelist
Customs inspector, New York, New York, USA (

mostrar todos

10)
clerk (1832-1834)
bookkeeper (1935-1937)
teacher (1837)
teacher (1839-1840)

Relações


Fatal error: Call to undefined function isLitsy() in /var/www/html/inc_magicDB.php on line 425


Herman Melville, American author, was born in New York City on the 1st of August 1819. He shipped as a cabin-boy at the age of eighteen, thus being enabled to make his first visit to England, and at twenty-two sailed for a long whaling cruise in the Pacific. After a year and a half he deserted his ship at the Marquesas Islands, on account of the cruelty of the captain; was captured by cannibals on the island of Nukahiva, and detained, without hardship, four months; was rescued by the crew of an Australian vessel, which he joined, and two years later reached New York. Thereafter, with the exception of a passenger voyage around the world in 1860, Melville remained in the United States, devoting himself to literature -- though for a considerable period (1866-1885) he held a post in the New York custom-house -- and being perhaps Hawthorne's most intimate friend among the literary men of America. His writings were numerous, but judged of varying merit by his contemporaries; his verse, patriotic and other was forgotten; and his works of fiction and of travel were deemed of irregular execution. Nevertheless, few authors have been enabled so freely to introduce romantic personal experiences into their books. He portrayed seafaring life and character with vigour and originality, and from a personal knowledge equal to that of Cooper, Marryat or Clark Russell. But these records of adventure were followed by other tales that his contemporaries found so turgid, eccentric, opinionative, and loosely written as to seem the work of another author. He died a failed author in New York on the 28th of September 1891. The 20th century's collective reassessment of his work is much more favorable, and he is now classed among the greatest American writers.
Estatísticas
Obras

623

Also by

130

Membros

65,570

Popularidade

#213

Avaliação

3.8
Críticas

1,001

ISBN

3,344

Línguas

38

Marcado como favorito

253