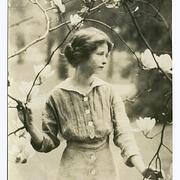 Edna St. Vincent Millay
(1892–1950)
Conhecimento Comum
Nome legal

Outros nomes

Data de nascimento

Data de falecimento

Localização do túmulo

Sexo

Nacionalidade

Local de nascimento

Local de falecimento

Locais de residência

Rockland, Maine, USA
Poughkeepsie, New York, USA
New York, New York, USA
Parijs, Frankrijk
Camden, Maine, USA

Educação

Ocupações

Relações

Organizações

Prémios e menções honrosas


Fatal error: Call to undefined function isLitsy() in /var/www/html/inc_magicDB.php on line 425


Edna St. Vincent Millay pulled herself out of a poverty-stricken childhood and became queen of the Bohemians during her years in New York's Greenwich Village. She expressed the recklessness of the Lost Generation of writers and artists following World War I with her famous poem "First Fig" ("my candle burns at both ends. . ."). She was the first woman to receive the Pulitzer Prize for Poetry.
Estatísticas
Obras

114

Also by

70

Membros

5,820

Popularidade

#4,230

Avaliação

4.1
Críticas

76

ISBN

182

Línguas

5

Marcado como favorito

83