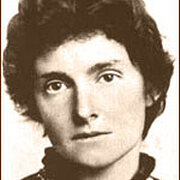 Conhecimento Comum
Nome canónico

Nome legal

Outros nomes

Data de nascimento

Data de falecimento

Localização do túmulo

Sexo

Nacionalidade

País (no mapa)

Local de nascimento

Local de falecimento

Locais de residência

Well Hall, Eltham, London, England, UK (1899-1921)
London, England, UK
New Romney, Kent, England, UK
France
Germany
Spain (

mostrar todos

11)
Halstead, Kent, England, UK
Lewisham, London, England, UK
Lee, London, England, UK
Grove Park, London, England, UK
St Mary's Bay, Dymchurch, Kent, UK

Educação

Ocupações

Organizações


Fatal error: Call to undefined function isLitsy() in /var/www/html/inc_magicDB.php on line 425


Edith Nesbit was born in London, England. She was educated at home and also attended a boarding school in France. In 1880, at age 19, she married Hubert Bland, a journalist and economist, with whom she had five children. The couple were both socialists and became co-founders of the Fabian Society in 1884. They published a couple of works together as Fabian Bland. After Bland's death, Edith remarried in 1917 to Thomas Terry Tucker, a marine engineer. Under the name E. Nesbit, she wrote and collaborated on more than 60 books of children's literature, including novels, collections of short stories, plays, poetry, and picture books. Among her best-known books are The Railway Children (1906), which has been adaptated into films several times; The Story of the Treasure Seekers (1898); and The Wouldbegoods (1899).
Estatísticas
Obras

263

Also by

140

Membros

26,639

Popularidade

#782

Avaliação

3.9
Críticas

403

ISBN

1,982

Línguas

25

Marcado como favorito

84