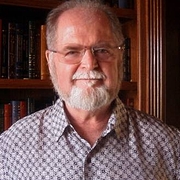 Conhecimento Comum
Nome legal

Data de nascimento

Sexo

Nacionalidade

Local de nascimento

Locais de residência

Los Angeles, California, USA (birthplace)
Washington, D.C., USA
Chatsworth, California, USA
Topeka, Kansas USA

Educação

Ocupações

Organizações

Prémios e menções honrosas

Guest of Honour, Eastercon, UK (1972)
E.E. Smith Memorial Award for Imaginative Fiction (1973)
Fictionwise eBook Author of the Year (2nd ∙ 2001)
Damon Knight Memorial Grand Master Award (2015)

Agente


Fatal error: Call to undefined function isLitsy() in /var/www/html/inc_magicDB.php on line 425


LARRY NIVEN is the multiple Hugo and Nebula Award-winning author of the Ringworld series, along with many other science fiction masterpieces. He lives in Chatsworth, California. JERRY POURNELLE is an essayist, journalist, and science fiction author. He has advanced degrees in psychology, statistics, engineering, and political science. Together Niven and Pournelle are the authors of many New York Times bestsellers including Inferno, The Mote in God's Eye, Footfall, and Lucifer's Hammer.
Estatísticas
Obras

310

Also by

201

Membros

87,773

Popularidade

#119

Avaliação

3.7
Críticas

1,083

ISBN

1,091

Línguas

20

Marcado como favorito

211

Acerca

2

Pedras de toque

876