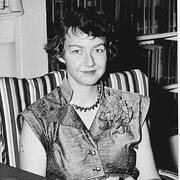 Flannery O'Connor
(1925–1964)
Conhecimento Comum
Nome legal

Data de nascimento

Data de falecimento

Localização do túmulo

Sexo

Nacionalidade

Local de nascimento

Local de falecimento

Causa da morte

Locais de residência

Educação

Ocupações

Relações

Organizações

Prémios e menções honrosas

Georgia Women of Achievement (1992)
American Academy of Arts and Letters Academy Award (Literature ∙ 1957)
Georgia Writers Hall of Fame
National Book Award for Fiction (1972)

Nota de desambiguação

There are two different versions of the book Three (or 3). They both contain Wise Blood and The Violent Will Bear It Away, and some contain A Good Man Is Hard to Find while others contain Everything That Rises Must Converge. Please be conscious of this difference when adding or combining works. If you own an edition of Three, please make sure it is combined with the correct work, and please do not combine the two separate works entitled Three (or 3).
Estatísticas
Obras

180

Also by

79

Membros

25,514

Popularidade

#820

Avaliação

4.1
Críticas

441

ISBN

298

Línguas

19

Marcado como favorito

332

Acerca

2

Pedras de toque

891