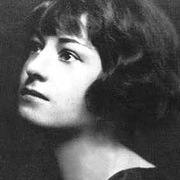 Conhecimento Comum
Nome canónico

Nome legal

Outros nomes

Data de nascimento

Data de falecimento

Localização do túmulo

Sexo

Nacionalidade

Local de nascimento

Local de falecimento

Causa da morte

Locais de residência

Educação

Ocupações

Relações

Organizações

Prémios e menções honrosas


Fatal error: Call to undefined function isLitsy() in /var/www/html/inc_magicDB.php on line 425


Dorothy Parker, née Rothschild, was born in the West End section of Long Branch, New Jersey, to J. Henry and Elizabeth Rothschild. Her mother died when she was four years old. She attended a Catholic grammar school and a finishing school in Morristown, NJ, and her formal education ended when she was 14.

In 1914, she sold her first poem to Vanity Fair. At age 22, she took an editorial job at Vogue, and continued to write poems for newspapers and magazines. In 1917, she joined Vanity Fair. That same year, she married Edwin P. Parker, a stockbroker, but they divorced in 1928.

S In 1919, she became a founding member of the Algonquin Round Table, the informal gathering of writers who lunched at the Algonquin Hotel in New York City. In 1922, Parker published her first short story and over the years, she contributed poetry, fiction and book reviews as the "Constant Reader" columnist.

In 1934, Parker married actor-writer Alan Campbell and the couple relocated to Los Angeles. They divorced in 1947, and remarried in 1950, but their relationship deteriorated.
She was inducted into the American Academy of Arts and Letters in 1959 and was a visiting professor at California State College in Los Angeles in 1963. She returned to Manhattan and lived in the Volney Hotel on the Upper East Side for the last 15 years of her life.
Estatísticas
Obras

128

Also by

70

Membros

9,111

Popularidade

#2,640

Avaliação

4.0
Críticas

116

ISBN

223

Línguas

10

Marcado como favorito

139