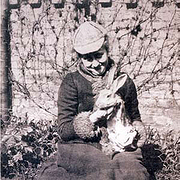 Beatrix Potter
(1866–1943)
Conhecimento Comum
Nome canónico

Nome legal

Data de nascimento

Data de falecimento

Localização do túmulo

Sexo

Nacionalidade

País (no mapa)

Local de nascimento

Local de falecimento

Locais de residência

Educação

Ocupações


Fatal error: Call to undefined function isLitsy() in /var/www/html/inc_magicDB.php on line 425


Beatrix Potter was born in south Kensington, London, to a wealthy family. She was educated by a governess and had a sheltered childhood with her younger brother Bertram. They kept an assortment of pets, including rabbits, mice, frogs, lizards, snakes, snails, and bats.
She began to draw and paint at an early age, and her parents encouraged her interest in art, providing her with special tutors and taking her to exhibitions at galleries.
The family spent summers in Scotland and later in the English Lake District, which provided much inspiration for her later work. She made her debut as a writer with a small animal book called A Happy Pair (1890), published under the pseudonym H.B.P. Her most famous work, The Tale of Peter Rabbit, was privately printed in 1901 in an edition of 250 copies, and then published by Frederick Warne & Co. Her wildly popular series of children's books, with their charming watercolor illustrations, also launched entire industries of pottery, tea-towels, plush toys, and animated films. With her royalties, she bought Hill Top, a 17th-century farm at Sawrey, Lancashire, in the Lake District, which became the setting for several of her books. At age 47, she married William Heelis, a solicitor, and gradually stopped writing. She bought a sheep farm and spent her last 30 years raising Herdwick sheep.

Nota de desambiguação

Try not to confuse with Beatrice Potter (1958-1943), probably better known under her married name as Beatrice Webb, a political writer and Fabian Society/Labour Party activist.
Estatísticas
Obras

1,229

Also by

31

Membros

70,670

Popularidade

#182

Avaliação

4.1
Críticas

618

ISBN

3,565

Línguas

32

Marcado como favorito

78

Pedras de toque

403