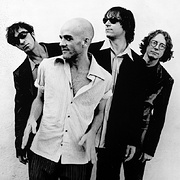 Conhecimento Comum
Nome canónico

Outros nomes

Data de nascimento

Data de falecimento

Sexo

Nacionalidade

Local de nascimento


Fatal error: Call to undefined function isLitsy() in /var/www/html/inc_magicDB.php on line 425


R.E.M. was an American rock band from Athens, Georgia, formed in 1980 by drummer Bill Berry, guitarist Peter Buck, bassist Mike Mills, and lead vocalist Michael Stipe. Additionally, many liner notes from the band's albums list attorney Bertis Downs and manager Jefferson Holt as non-musical members. One of the first alternative rock bands, R.E.M. was noted for Buck's ringing, arpeggiated guitar style, Stipe's distinctive vocals and obscure lyrics, Mills's melodic basslines and backing vocals, and Berry's tight, economical drumming.

R.E.M. released its first single, "Radio Free Europe", in 1981 on the independent record label Hib-Tone. It was followed by the Chronic Town EP in 1982, the band's first release on I.R.S. Records. In 1983, the group released its critically acclaimed debut album, Murmur, and built its reputation over the next few years through subsequent releases, constant touring, and the support of college radio. Following years of underground success, R.E.M. achieved a mainstream hit with the 1987 single "The One I Love". The group signed to Warner Bros. Records in 1988, and began to espouse political and environmental concerns while playing large arenas worldwide.

In the early 1990s, other alternative rock acts such as Nirvana and Pavement viewed R.E.M. as a pioneer of the genre. R.E.M.'s most commercially successful albums, Out of Time (1991) and Automatic for the People (1992), brought it to the vanguard of alternative rock just as it was becoming mainstream. Out of Time received seven nominations at the 34th Annual Grammy Awards, and lead single "Losing My Religion", was R.E.M.'s highest-charting and best-selling hit.

In 2007, the band was inducted into the Rock and Roll Hall of Fame, in its first year of eligibility. After releasing the well received album Accelerate (2008) and Collapse into Now (2011), R.E.M. disbanded amicably in September 2011. The former members have continued with various musical projects, and several live and archival albums have been released.