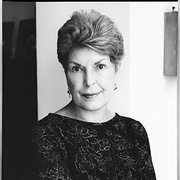 Conhecimento Comum
Nome legal

Outros nomes

Data de nascimento

Data de falecimento

Localização do túmulo

Sexo

Nacionalidade

País (no mapa)

Local de nascimento

Local de falecimento

Locais de residência

London, England, UK
Groton, Suffolk, England, UK
Polstead, Suffolk, England, UK
Loughton, Essex, England, UK

Educação

Ocupações

Organizações

Prémios e menções honrosas

Agente


Fatal error: Call to undefined function isLitsy() in /var/www/html/inc_magicDB.php on line 425


Ruth Barbara Rendell, née Grasemann, was the only child of two schoolteachers. She got her first job as a reporter for a South Woodford newspaper and married her boss, editor Don Rendell, at age 20. The couple had one son. She published her first novel, From Doon with Death, in 1964. Ms. Rendell was a prolific writer of police procedurals and psychological suspense/crime novels exploring such themes as romantic obsession, family secrets, miscommunication, and the impact of chance and coincidence. After years of writing such critically acclaimed works and receiving many awards, in 1986 she created the pseudonym Barbara Vine. The Barbara Vine novels are more oblique and have a recurring theme of consequences from events that occurred in the past. She was made a life peer as Baroness Rendell of Babergh in 1997.
Estatísticas
Obras

306

Also by

130

Membros

46,557

Popularidade

#340

Avaliação

3.7
Críticas

1,180

ISBN

3,614

Línguas

29

Marcado como favorito

134

Pedras de toque

1,042