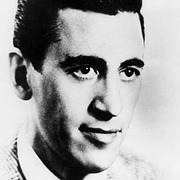 J. D. Salinger
(1919–2010)
Conhecimento Comum
Nome canónico

Nome legal

Data de nascimento

Data de falecimento

Sexo

Nacionalidade

País (no mapa)

Local de nascimento

Local de falecimento

Locais de residência

Educação

Ocupações

Relações

Salinger, Margaret (daughter)
Douglas, Claire (1) (wife|divorced)
Maynard, Joyce (domestic partner)
Hemingway, Ernest (friend)
Maxwell, William (friend)
Ross, Lillian (friend) (

mostrar todos

12)
Shawn, William (friend)
Burnett, Whit (teacher)
Hand, Learned (friend)
Hadley, Leila (friend)
Hotchner, A. E. (friend)
Salinger, Matt (son)

Organizações

US Army (U.S. 12th Infantry Regiment ∙ WWII)
Counter Intelligence Corps (CIC)
The New Yorker
Ramakrishna-Vivekananda Center of New York

Prémios e menções honrosas


Fatal error: Call to undefined function isLitsy() in /var/www/html/inc_magicDB.php on line 425


Jerome David Salinger was an American writer best known for his novel The Catcher in the Rye. Salinger published several short stories in Story magazine in the early 1940s before serving in World War II. In 1948, his critically acclaimed story "A Perfect Day for Bananafish" appeared in The New Yorker, which became home to much of his later work. The Catcher in the Rye was published in 1951 and became an immediate popular success. Salinger's depiction of adolescent alienation and loss of innocence in the protagonist Holden Caulfield was influential, especially among adolescent readers. The novel was widely read and controversial.
Estatísticas
Obras

87

Also by

11

Membros

101,243

Popularidade

#88

Avaliação

3.9
Críticas

1,416

ISBN

592

Línguas

39

Marcado como favorito

482