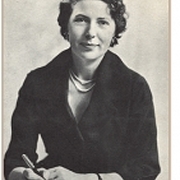 Conhecimento Comum
Nome legal

Outros nomes

Data de nascimento

Data de falecimento

Sexo

Nacionalidade

País (no mapa)

Local de nascimento

Local de falecimento

Locais de residência

Educação

Ocupações

Relações

Organizações

Prémios e menções honrosas

Romance Writers of America (Lifetime Achievement Award ∙ 1992)
Malice Domestic Award for Lifetime Achievement (1996)
Royal Society of Arts (Fellow)
Durham University (D.Litt.) (2009)


Fatal error: Call to undefined function isLitsy() in /var/www/html/inc_magicDB.php on line 425


Mary Florence Elinor Rainbow was born on 12 September 1916 in Sunderland, England, the United Kingdom. She graduated from Durham University, from where she received an honorary D.Litt in 2009. She was a lecturer in English Language and Literature there until her marriage in 1945 to Sir Frederick Stewart, former chairman of the Geology Department of Edinburgh University, who died in 2001.

Lady Mary Stewart was author of twenty novels, a volume of poetry, and three books for young readers, she is admired for both her contemporary stories of romantic suspense and her historical novels. Her finest and most original achievement was Merlin Trilogy, an Arthurian saga: The Crystal Cave (1970), The Hollow Hills (1973) and The Last Enchantment (1979). The first of these was turned into a children's television series in 1991. During years she resided in Scotland, where she died on 9 May 2014.
Estatísticas
Obras

53

Also by

26

Membros

36,388

Popularidade

#507

Avaliação

3.9
Críticas

664

ISBN

705

Línguas

15

Marcado como favorito

163

Acerca

1

Pedras de toque

1,125