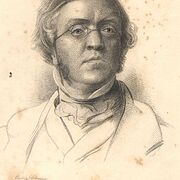 William Makepeace Thackeray
(1811–1863)
Conhecimento Comum
Outros nomes

Fitz-Boodle, George Savage (nom de plume)
Titmarsh, Michael Angelo (nom de plume)
Yellowplush, Charles James (nom de plume)
The Fat Contributor
Solomons, Ikey

Data de nascimento

Data de falecimento

Localização do túmulo

Sexo

Nacionalidade

Local de nascimento

Local de falecimento

Causa da morte

Locais de residência

Educação

Ocupações

Relações


Fatal error: Call to undefined function isLitsy() in /var/www/html/inc_magicDB.php on line 425


William Makepeace Thackery was second only to Charles Dickens in stature as an author during the Victorian era. His humorous and satirical writings were much in demand by periodicals, including Punch, and he was a popular lecturer. Today he's best known for his novel Vanity Fair, which is required reading in most college English courses. He experienced tragedy in his personal life due to the long deterioration and mental illness of his wife Isabella.

Nota de desambiguação

W. M. Thackeray also wrote as Charles James Yellowplush, Michael Angelo Titmarsh, George Savage Fitz-Boodle, The Fat Contributor, and Ikey Solomons.
Estatísticas
Obras

619

Also by

53

Membros

21,703

Popularidade

#990

Avaliação

3.8
Críticas

268

ISBN

1,662

Línguas

24

Marcado como favorito

61