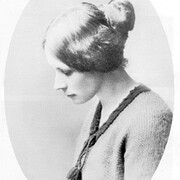 Flora Thompson
(1876–1947)
Conhecimento Comum
Nome canónico

Nome legal

Outros nomes

Data de nascimento

Data de falecimento

Localização do túmulo

Sexo

Nacionalidade

Local de nascimento

Local de falecimento

Locais de residência

Educação

Ocupações


Fatal error: Call to undefined function isLitsy() in /var/www/html/inc_magicDB.php on line 425


Flora Thompson, née Timms, was the eldest of six children of a stonemason and a nursemaid. She was educated at the parish school in Cottisford and left school at age 14 to work in various post offices across southern England. In 1903, she married John William Thompson, a post office clerk and telegraphist who had served in the Royal Navy, and the couple had a daughter and two sons. Flora Thompson won an essay competition in The Ladies Companion in 1911 for an essay about Jane Austen. She later began publishing extensively, writing short stories, magazine and newspaper articles. She was a dedicated self-taught naturalist and many of her nature articles were published in anthologies. Flora Thompson is best known for her semi-autobiographical trilogy of books about the rural English countryside, Lark Rise to Candleford.
Estatísticas
Obras

14

Also by

3

Membros

2,356

Popularidade

#10,887

Avaliação

4.0
Críticas

45

ISBN

113

Línguas

4

Marcado como favorito

13

Pedras de toque

173