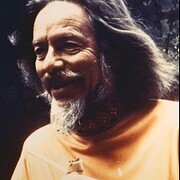 Alan W. Watts
(1915–1973)
Conhecimento Comum
Nome canónico

Nome legal

Data de nascimento

Data de falecimento

Localização do túmulo

Cremated with ashes buried half at Druid Heights, Marin County, California, USA and half at Green Gulch Monastery. Muir Beach, California, USA

Sexo

Nacionalidade

Local de nascimento

Local de falecimento

Locais de residência

Educação

Ocupações

Organizações


Fatal error: Call to undefined function isLitsy() in /var/www/html/inc_magicDB.php on line 425


A prolific author and speaker, Alan Watts was one of the first to interpret Eastern wisdom for a Western audience. Born outside London in 1915, he discovered the nearby Buddhist Lodge at a young age. After moving to the United States in 1938, Alan became an Episcopal priest for a time, and then relocated to Millbrook, New York, where he wrote his pivotal book The Wisdom of Insecurity: A Message for an Age of Anxiety. In 1951 he moved to San Francisco where he began teaching Buddhist studies, and in 1956 began his popular radio show, "Way Beyond the West." By the early sixties, Alan's radio talks aired nationally and the counterculture movement adopted him as a spiritual spokesperson. He wrote and traveled regularly until his passing in 1973.
Estatísticas
Obras

193

Also by

10

Membros

14,386

Popularidade

#1,595

Avaliação

4.0
Críticas

159

ISBN

483

Línguas

15

Marcado como favorito

52

Pedras de toque

41