Harry Potter/Hunger Games/Twilight/Every Series You Know You Love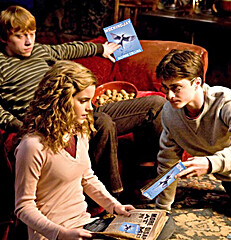 Este grupo está oficialmente adormecido. Acontece.
Se quiser acordar este grupo ou criar um novo grupo sobre o mesmo assunto, veja esta página.
This Group is for the lovers of any good book. I know ground breaking stuff. What I mean is you don't have to love a certain book to join. Once you are part of this group you don't have to agree with what anyone else is saying. Put a comment about a good book you just finished, and trust me, someone else out their in cyber space will be very happy to start a virtual debate with you. For the rest of us it will be interesting to watch. So no matter if you hate the Hunger Games(though I doubt there are many people who do.) Or you belive that Pretty Little Liars should have never become a show,(who's with me on that one?)Maybe you believe that Hermione and Harry should have ended up together? Whatever you think post a topic, and have some like minded individuals comment on it. Join this group and make it your own.
Tópico

Tópico

Messagens

Última Mensagem

Percy Jackson Debate!!!

84 por ler

/ 84

LunaTheHermit

,

Outubro

2020
Age Poll

36 por ler

/ 36

superboy

,

Julho

2020
It is impossible for Harry and Hermione to end up together, it doesn't make sense.

2 por ler

/ 2

twinbookworm

,

Junho

2020
The Selection

1 por ler

/ 1

twinbookworm

,

Junho

2020
Sisterhood of the Traveling Pants: What do we think?

12 por ler

/ 12

twinbookworm

,

Junho

2020
Divergent

5 por ler

/ 5

twinbookworm

,

Junho

2020
Katharine Kerr's Deverry Series

2 por ler

/ 2

sallypursell

,

Abril

2020
For those of us who are still in school...

7 por ler

/ 7

Evelinadanerd

,

Novembro

2019
Harry Potter book ranks

48 por ler

/ 48

-Booklover.

,

Maio

2019
Harry Potter, Voldemort Wins the World

83 por ler

/ 83

-Booklover.

,

Maio

2019
Favorite Book Quotes 2

90 por ler

/ 90

Ciel-Phantomhive

,

Maio

2016
The Maze Runner

69 por ler

/ 69

ElliottLShifman

,

Dezembro

2014
Favorite Book Quotes

212 por ler

/ 212

mrmcfluff2

,

Agosto

2014
What is everyones favorite series?

57 por ler

/ 57

mrmcfluff2

,

Março

2014
Just chatting

329 por ler

/ 329

mrmcfluff2

,

Março

2014
The Mortal Instruments Series

16 por ler

/ 16

amy.e.n

,

Dezembro

2013
Rue or Prim? Note: Hunger Games SPOILER

132 por ler

/ 132

immdauntless

,

Outubro

2013
The "Classics"

22 por ler

/ 22

mrmcfluff2

,

Julho

2013
[Untitled topic]

93 por ler

/ 93

cats44454

,

Maio

2013
Emma Watson

9 por ler

/ 9

prettylilbookaholic

,

Março

2013
Chaos Walking

12 por ler

/ 12

hyper13

,

Fevereiro

2013
Good Series Gone Bad

15 por ler

/ 15

flanisntjustdessert

,

Dezembro

2012
Harry Potter Trivia

230 por ler

/ 230

mrmcfluff

,

Dezembro

2012
Debating Thread

137 por ler

/ 137

flanisntjustdessert

,

Dezembro

2012
Interesting Websites

11 por ler

/ 11

justjukka

,

Novembro

2012
I am number four

16 por ler

/ 16

mrmcfluff2

,

Novembro

2012
Harry Potter and the Deathly Hallows

15 por ler

/ 15

flanisntjustdessert

,

Novembro

2012
Has Anyone Read This Series?

13 por ler

/ 13

flanisntjustdessert

,

Novembro

2012
Pure by: Julianna Baggott- The New Hunger Games?

5 por ler

/ 5

swimfreak14

,

Novembro

2012
Gone Series

10 por ler

/ 10

swimfreak14

,

Novembro

2012
House of Night

14 por ler

/ 14

mrmcfluff2

,

Novembro

2012
Hunger Games Will Be Four Films

15 por ler

/ 15

mrmcfluff2

,

Novembro

2012
District 11 Tributes Announced

6 por ler

/ 6

mrmcfluff

,

Novembro

2012
Uglies Series, Dystopic or Utopic??

78 por ler

/ 78

hyper13

,

Outubro

2012
Has Anyone Read the Gemma Doyle Trilogy?

26 por ler

/ 26

swimfreak14

,

Outubro

2012
Finnick

13 por ler

/ 13

mrmcfluff2

,

Setembro

2012
Kristen Stewart

22 por ler

/ 22

amysisson

,

Setembro

2012
Not a series but....

28 por ler

/ 28

hyper13

,

Setembro

2012
Breaking Dawn

40 por ler

/ 40

AresofAmbition

,

Agosto

2012
FABLEHAVEN

18 por ler

/ 18

mrmcfluff

,

Agosto

2012
VOTE: What do you think of "Twilight?"

122 por ler

/ 122

mrmcfluff

,

Agosto

2012
Big Word Challenge

303 por ler

/ 303

ErisofDiscord

,

Julho

2012
Hunger Games Fan Art

52 por ler

/ 52

mrmcfluff

,

Julho

2012
New Books

24 por ler

/ 24

mrmcfluff

,

Junho

2012
New Members and Pictures

223 por ler

/ 223

flanisntjustdessert

,

Maio

2012
Recommendations

51 por ler

/ 51

flanisntjustdessert

,

Maio

2012
FIRST HUNGER GAMES TRAILER IS OUT!!!!!!!!!!

109 por ler

/ 109

flanisntjustdessert

,

Maio

2012
Pretty Little Liars

22 por ler

/ 22

mrmcfluff

,

Maio

2012
The House of Night Series

14 por ler

/ 14

mrmcfluff

,

Abril

2012
GIVEAWAY ALERT! Books-to-Movies Ebook GIVEAWAY! WORLDWIDE

5 por ler

/ 5

mrmcfluff

,

Abril

2012
The Hunger Games

26 por ler

/ 26

flanisntjustdessert

,

Março

2012
The Walking Dead series?

15 por ler

/ 15

mrmcfluff

,

Março

2012
HELP!

20 por ler

/ 20

ErisofDiscord

,

Março

2012
Here's Katniss!

28 por ler

/ 28

ErisofDiscord

,

Março

2012
Heh Heh... I just realized someting...

20 por ler

/ 20

flanisntjustdessert

,

Março

2012
Twilight Breaking Dawn Part 1 DVD/Blu-Ray Editions!

10 por ler

/ 10

sarahy

,

Março

2012
catching fire dream casting

54 por ler

/ 54

ErisofDiscord

,

Fevereiro

2012
Any Weird Talents?

74 por ler

/ 74

flanisntjustdessert

,

Fevereiro

2012
Mockingjay

88 por ler

/ 88

Mariah7

,

Fevereiro

2012
Hungers Games Motion Poster!

13 por ler

/ 13

Mariah7

,

Janeiro

2012
Hunger Games, Katniss Should Have Married Gale

107 por ler

/ 107

mrmcfluff

,

Janeiro

2012
Alex Flinn Modern Fairytales

19 por ler

/ 19

mrmcfluff

,

Janeiro

2012
Weasley TV show!!

54 por ler

/ 54

flanisntjustdessert

,

Janeiro

2012
PARTY

69 por ler

/ 69

taz1030

,

Dezembro

2011
2012 Witches & Witchcraft Reading Challenge!!

2 por ler

/ 2

mrmcfluff

,

Dezembro

2011
Dobby the House Elf!

35 por ler

/ 35

sarahy

,

Dezembro

2011
Harry Potter: What House Would You Be In?

171 por ler

/ 171

ErisofDiscord

,

Dezembro

2011
Harry Potter and the Bill of Rights

4 por ler

/ 4

magelet87

,

Dezembro

2011
Twilight, Emmet is Better Then Edward or Jacob

32 por ler

/ 32

magelet87

,

Dezembro

2011
The Tomorrow Code

8 por ler

/ 8

Mariah7

,

Dezembro

2011
Tom Felton Lovers

51 por ler

/ 51

sarahy

,

Novembro

2011
Christopher Paolini's Inheritance- Funny Parts

4 por ler

/ 4

read_books

,

Novembro

2011
Severus and Lily

27 por ler

/ 27

mrmcfluff

,

Novembro

2011
The Next Hunger Games?

12 por ler

/ 12

swimfreak14

,

Novembro

2011
Shiver series

22 por ler

/ 22

ErisofDiscord

,

Novembro

2011
Inheritance

19 por ler

/ 19

ErisofDiscord

,

Novembro

2011
Hunger Games Cast Announcements

91 por ler

/ 91

mrmcfluff

,

Novembro

2011
Artemis Fowl, Rivals Harry Potter??

37 por ler

/ 37

sarahy

,

Novembro

2011
GIVE ME THE PRECIOUS!

35 por ler

/ 35

sarahy

,

Novembro

2011
Dumbledore vs. Snape

53 por ler

/ 53

sarahy

,

Novembro

2011
Warriors books

17 por ler

/ 17

sarahy

,

Novembro

2011
Rangers Apprentice, Are More Books Always Better??

38 por ler

/ 38

mrmcfluff

,

Novembro

2011
Secret Series

11 por ler

/ 11

sarahy

,

Novembro

2011
wefr

10 por ler

/ 10

sarahy

,

Outubro

2011
:(

42 por ler

/ 42

sarahy

,

Setembro

2011
The 39 clues

18 por ler

/ 18

mrmcfluff

,

Setembro

2011
Harry's anger issues!

25 por ler

/ 25

supersam

,

Agosto

2011
Harry Potter and the Love Lives of His Friends

60 por ler

/ 60

sarahy

,

Agosto

2011
Gale and Peeta

8 por ler

/ 8

sarahy

,

Agosto

2011
New Group!

1 por ler

/ 1

sarahy

,

Abril

2011
This is a feature balloon