The SF&F Book Chat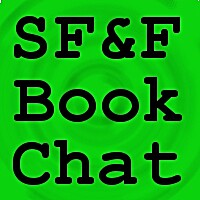 Este grupo está oficialmente adormecido. Acontece.
Se quiser acordar este grupo ou criar um novo grupo sobre o mesmo assunto, veja esta página.
The SF&F Book Chat have a meet-up in Accents Coffee and Tea Lounge in Dublin, Ireland on Thursdays at 6:15pm. A new book is discussed each week. No commitment to read all the books is necessary: if you've read that week's book, you can come to just that week's meet-up! If you live outside of Dublin or if the IRL meetups just don't suit your schedule, you are welcome to participate in the online discussion only.

If you've recently read a book we've previously discussed, please feel free to resurrect that book's thread. All of our chat threads can be found easily via our wiki page.
Tópico

Tópico

Messagens

Última Mensagem

Chat about... Who Fears Death by Nnedi Okorafor

1 por ler

/ 1

Scorbet

,

Março

2014
Chat about... Blue Remembered Earth by Alastair Reynolds

1 por ler

/ 1

Scorbet

,

Março

2014
2014 Meetups

4 por ler

/ 4

Scorbet

,

Março

2014
3 Shorts by Edgar Allen Poe

1 por ler

/ 1

Scorbet

,

Março

2014
Chat about... The Lions of Al-Rassan by Guy Gavriel Kay

1 por ler

/ 1

Scorbet

,

Outubro

2013
Chat about... The Uninhabited House by Mrs. J.H. Riddell

1 por ler

/ 1

Scorbet

,

Outubro

2013
Chat about... Let Maps to Others by K.J. Parker

1 por ler

/ 1

Scorbet

,

Outubro

2013
Chat about... Blood Song by Anthony Ryan

2 por ler

/ 2

Scorbet

,

Setembro

2013
Chat about... The Shining Girls by Lauren Beukes

1 por ler

/ 1

Scorbet

,

Setembro

2013
Chat about... Silver Screen by Justina Robson

1 por ler

/ 1

Scorbet

,

Setembro

2013
Chat about... World Fantasy Nominees

1 por ler

/ 1

Scorbet

,

Setembro

2013
Spoiler-Free Thread (AKA Where to Find Some of the Books)

14 por ler

/ 14

Scorbet

,

Setembro

2013
Chat about... The Algebraist by Ian M. Banks

5 por ler

/ 5

pgmcc

,

Setembro

2013
Chat about... Sleeping Beauty

3 por ler

/ 3

Hatgirl

,

Setembro

2013
Chat about... Throne of the Crescent Moon by Saladin Ahmed

1 por ler

/ 1

Scorbet

,

Agosto

2013
2013 Meet-Ups

10 por ler

/ 10

Scorbet

,

Agosto

2013
Chat about... Living Alone by Stella Benson

1 por ler

/ 1

Scorbet

,

Agosto

2013
Chat about... Fade to White by Catherynne M. Valente

1 por ler

/ 1

Scorbet

,

Agosto

2013
Chat about... The Ocean at the End of the Lane by Neil Gaiman

3 por ler

/ 3

Scorbet

,

Agosto

2013
Chat about... London Falling by Paul Cornell

4 por ler

/ 4

Hatgirl

,

Maio

2013
Chat about... Agent to the Stars by John Scalzi

2 por ler

/ 2

Hatgirl

,

Maio

2013
Chat about... Weird Detectives

2 por ler

/ 2

stripycat42

,

Abril

2013
Chat about... Ken Liu's Short Stories

2 por ler

/ 2

Scorbet

,

Abril

2013
Chat about... A Natural History of Dragons by Marie Brennan

2 por ler

/ 2

Scorbet

,

Abril

2013
Chat about... The Wood Beyond the World by William Morris

3 por ler

/ 3

Hatgirl

,

Abril

2013
Chat about... The Invisible Man by HG Wells

3 por ler

/ 3

Hatgirl

,

Abril

2013
Chat about... Worldsoul by Liz Williams

4 por ler

/ 4

Hatgirl

,

Abril

2013
Chat about... Hansel and Gretel by The Brothers Grimm

4 por ler

/ 4

Scorbet

,

Abril

2013
Chat about... Debris by Jo Anderton

3 por ler

/ 3

Scorbet

,

Abril

2013
Chat about... Hugo Award 2012 Novelette Nominees

2 por ler

/ 2

Hatgirl

,

Março

2013
Chat about... Fool's War by Sarah Zettel

3 por ler

/ 3

Hatgirl

,

Março

2013
Chat about... Hugo Award 2012 Short Story Nominees

4 por ler

/ 4

Scorbet

,

Março

2013
Chat about... Fledgling by Octavia Butler

2 por ler

/ 2

Hatgirl

,

Março

2013
Chat about... Cloud Atlas by David Mitchell

2 por ler

/ 2

stripycat42

,

Março

2013
Chat about... A Face Like Glass by Frances Hardinge

1 por ler

/ 1

Scorbet

,

Março

2013
Chat about... Stories by Nancy Kress

1 por ler

/ 1

Scorbet

,

Março

2013
Chat about... 20 000 Leagues Under the Sea by Jules Verne

2 por ler

/ 2

Scorbet

,

Fevereiro

2013
Chat about... Lud-in-the-Mist by Hope Mirrlees

3 por ler

/ 3

Scorbet

,

Fevereiro

2013
Chat about...Stories by Cat Rambo

1 por ler

/ 1

Scorbet

,

Fevereiro

2013
Chat about... Seraphina by Rachel Hartman

1 por ler

/ 1

Scorbet

,

Fevereiro

2013
Chat about... Redshirts by John Scalzi

3 por ler

/ 3

Scorbet

,

Fevereiro

2013
Chat about... A Small Price to Pay for Birdsong by K.J. Parker

1 por ler

/ 1

Scorbet

,

Janeiro

2013
Chat about... Snow White and the Seven Dwarves

1 por ler

/ 1

Scorbet

,

Janeiro

2013
Chat about... The Bromeliad Trilogy by Terry Pratchett

1 por ler

/ 1

Scorbet

,

Janeiro

2013
Chat about... The Magic World by E. Nesbit

1 por ler

/ 1

Scorbet

,

Janeiro

2013
Chat about... Clarkesworld June 2012

1 por ler

/ 1

Scorbet

,

Janeiro

2013
Chat about... 'Tis the Season by China Mieville

1 por ler

/ 1

Scorbet

,

Janeiro

2013
Chat about... The Monkey's Wedding:and other Stories by Joan Aiken

1 por ler

/ 1

Scorbet

,

Janeiro

2013
Chat about... Gorel and the Pot-bellied God by Lavie Tidhar

1 por ler

/ 1

Scorbet

,

Janeiro

2013
Chat about... Tides from the New Worlds by Tobias Buckell

1 por ler

/ 1

Scorbet

,

Janeiro

2013
Chat about... Coraline by Neil Gaiman

2 por ler

/ 2

stripycat42

,

Dezembro

2012
Chat about... Snow Crash by Neal Stephenson

5 por ler

/ 5

stripycat42

,

Dezembro

2012
Snow Crash by Neal Stephenson (Spoiler Free Zone)

1 por ler

/ 1

Scorbet

,

Outubro

2012
Coraline by Neil Gaiman (Spoiler Free Zone)

1 por ler

/ 1

Scorbet

,

Outubro

2012
Chat about... World Fantasy Awards free Short Story Nominees

1 por ler

/ 1

Scorbet

,

Outubro

2012
World Fantasy Awards free Short Story Nominees (Spoiler Free Zone)

1 por ler

/ 1

Scorbet

,

Outubro

2012
Chat about... Star Hunter by Andre Norton

1 por ler

/ 1

Scorbet

,

Outubro

2012
Star Hunter by Andre Norton (Spoiler Free Zone)

1 por ler

/ 1

Scorbet

,

Outubro

2012
Meet-Ups Schedule

30 por ler

/ 30

Scorbet

,

Outubro

2012
Worldsoul by Liz Williams (Spoiler Free Zone)

2 por ler

/ 2

omegar24

,

Setembro

2012
Chat about... A Study in Emerald by Neil Gaiman

1 por ler

/ 1

Scorbet

,

Setembro

2012
A Study in Emerald by Neil Gaiman (Spoiler-free Zone)

2 por ler

/ 2

Scorbet

,

Setembro

2012
Chat about... The Teleportation Accident by Ned Beauman

2 por ler

/ 2

Scorbet

,

Setembro

2012
The Teleportation Accident by Ned Beauman

1 por ler

/ 1

Scorbet

,

Setembro

2012
Chat about... The Newsflesh Trilogy by Mira Grant

4 por ler

/ 4

omegar24

,

Setembro

2012
Chat about... The Tempest by William Shakespeare

3 por ler

/ 3

omegar24

,

Setembro

2012
The Tempest by William Shakespeare (Spoiler Free Zone)

2 por ler

/ 2

Scorbet

,

Setembro

2012
Chat about... the Professor Challenger series

1 por ler

/ 1

Scorbet

,

Setembro

2012
Professor Challenger Series (Spoiler Free Zone)

1 por ler

/ 1

Scorbet

,

Setembro

2012
Chat about... A Dreamer's Tales by Lord Dunsany

2 por ler

/ 2

Hatgirl

,

Julho

2012
A Dreamer's Tales by Lord Dunsany (Spoiler Free Zone)

2 por ler

/ 2

Hatgirl

,

Julho

2012
Chat about... Zoo City by Lauren Beukes

7 por ler

/ 7

Hatgirl

,

Julho

2012
Chat about... The High Crusade by Poul Anderson

2 por ler

/ 2

Scorbet

,

Julho

2012
The Newsflesh Trilogy by Mira Grant (Spoiler Free Zone)

2 por ler

/ 2

omegar24

,

Julho

2012
The High Crusade by Poul Anderson (Spoiler Free Zone)

3 por ler

/ 3

Scorbet

,

Julho

2012
Chat about... Emphyrio by Jack Vance

1 por ler

/ 1

Scorbet

,

Julho

2012
Emphryrio by Jack Vance (Spoiler Free Zone)

1 por ler

/ 1

Scorbet

,

Julho

2012
Hugo Award 2012 Novelette Nominees (Spoiler Free Zone)

3 por ler

/ 3

Scorbet

,

Junho

2012
Chat about... Among Others by Jo Walton

4 por ler

/ 4

omegar24

,

Junho

2012
Fool's War by Sarah Zettel (Spoiler Free Zone)

1 por ler

/ 1

Scorbet

,

Junho

2012
Hansel and Gretel by The Brothers Grimm (Spoiler Free Zone)

3 por ler

/ 3

Scorbet

,

Maio

2012
Chat about... The Star by H. G. Wells

3 por ler

/ 3

Hatgirl

,

Maio

2012
Chat about... Neverwhere by Neil Gaiman

4 por ler

/ 4

Hatgirl

,

Maio

2012
Chat about... The Fate Of The Children of Lir by Lady Gregory

3 por ler

/ 3

Hatgirl

,

Maio

2012
Fledgling by Octavia Butler (Spoiler Free Zone)

1 por ler

/ 1

Hatgirl

,

Maio

2012
Debris by Jo Anderton (Spoiler Free Zone)

2 por ler

/ 2

Hatgirl

,

Maio

2012
Suggestions for future Book Chat choices

12 por ler

/ 12

wyvernfriend

,

Maio

2012
Hugo Award 2012 Short Story Nominees (Spoiler Free Zone)

2 por ler

/ 2

Hatgirl

,

Abril

2012
Nebula Award 2012 Short Story Nominees (Spoiler Free Zone)

2 por ler

/ 2

Hatgirl

,

Abril

2012
Chat about... Nebula Award 2012 Short Story Nominees

1 por ler

/ 1

Hatgirl

,

Abril

2012
The Star by H. G. Wells (Spoiler Free Zone)

2 por ler

/ 2

Hatgirl

,

Abril

2012
Chat about... Beauty by Robin McKinley

6 por ler

/ 6

Scorbet

,

Abril

2012
Chat about... The Dark Is Rising Sequence by Susan Cooper

12 por ler

/ 12

wyvernfriend

,

Abril

2012
Chat about... The Mist by Stephen King

3 por ler

/ 3

Hatgirl

,

Abril

2012
Chat about... Nebula Award 2012 Short Story Nominees

3 por ler

/ 3

Hatgirl

,

Abril

2012
Nebula Award 2012 Short Story Nominees (Spoiler Free Zone)

2 por ler

/ 2

Hatgirl

,

Abril

2012
Chat about... Jack And The Beanstalk by Joseph Jacobs

5 por ler

/ 5

Scorbet

,

Abril

2012
Chat about... Uncharted Territory by Connie Willis

7 por ler

/ 7

Scorbet

,

Abril

2012
The Fate Of The Children of Lir by Lady Gregory (Spoiler Free Zone)

2 por ler

/ 2

Hatgirl

,

Abril

2012
Chat about... Across The Universe by Beth Revis

3 por ler

/ 3

Hatgirl

,

Abril

2012
This is a feature balloon