Stone-Campbell / Restoration Movement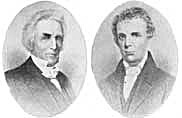 Este grupo está oficialmente adormecido. Acontece.
Se quiser acordar este grupo ou criar um novo grupo sobre o mesmo assunto, veja esta página.
A group for individuals interested in the various topics and literature of the Stone-Campbell religious heritage, or the American "Restoration Movement" (Disciples of Christ, Christian Church, and Churches of Christ), and whose library collections reflect that interest.
This is a feature balloon