Jewish Cookbooks and Cookery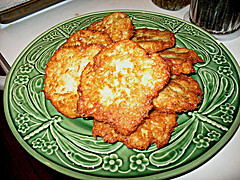 Este grupo está oficialmente adormecido. Acontece.
Se quiser acordar este grupo ou criar um novo grupo sobre o mesmo assunto, veja esta página.
A forum for those who collect and enjoy Jewish cookbooks, cooking and food related ephemera and Jewish recipes. If you are looking for a special recipe - traditional or modern - or a particular book, this forum could be a good place to start.
Tópico

Tópico

Messagens

Última Mensagem

Strangest/Quirkiest Jewish Cookbook?

13 por ler

/ 13

MarthaJeanne

,

Janeiro

2014
How to make Pink Pickles

1 por ler

/ 1

Yehoshua.Jacobs

,

Maio

2013
"Sisterhood" Cookbooks

4 por ler

/ 4

almigwin

,

Novembro

2012
antiquarian Jewish cookbooks

3 por ler

/ 3

k9ahura

,

Março

2010
Nineteenth-century Ashkenazic cookbooks?

3 por ler

/ 3

k9ahura

,

Março

2010
Show us your Passsover Food Dishes!

3 por ler

/ 3

SqueakyChu

,

Abril

2009
Most used and useful Jewish cookbook?

37 por ler

/ 37

torontoc

,

Setembro

2008
Your Passover Menu?

9 por ler

/ 9

torontoc

,

Abril

2008
How we found this group...

2 por ler

/ 2

SqueakyChu

,

Janeiro

2008
jewish cooking of different countries/cultures

13 por ler

/ 13

LarsonLewisProject

,

Outubro

2007
From Manna to Mousse

6 por ler

/ 6

ejfertig

,

Setembro

2007
recipes that produce a huge amount for the New Year

1 por ler

/ 1

torontoc

,

Agosto

2007
recipes that produce a huge amount for the New Year

1 por ler

/ 1

torontoc

,

Agosto

2007
Shavuot Dairy Recipes

6 por ler

/ 6

buddy

,

Maio

2007
Passover dessert recipes

15 por ler

/ 15

buddy

,

Maio

2007
Double Copies.. arggh

1 por ler

/ 1

LarsonLewisProject

,

Abril

2007
Passover-any interesting recipes?

10 por ler

/ 10

SqueakyChu

,

Abril

2007
Sephardic Pumpkin Pancakes

6 por ler

/ 6

LarsonLewisProject

,

Março

2007
This is a feature balloon