The Green Dragon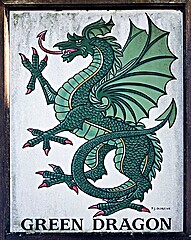 Tolkien, Fantasy, SciFi, mythology - any and all books of wonder! Virtual ale & warm lively chat - join us in LibraryThing's best pub! For over 15 years The Green Dragon has been one of the busiest and most welcoming groups on LibraryThing, so come in, sit down, and enjoy the banter in our virtual home, where we celebrate fine books, and every variety of cheese in the known universe.

Here is our Green Dragon Author List and Related Information! Here are the threads from the Group Reads & Discussions we've had: Green Dragon Book Discussions Here's a link to the wiki for many of our Personal Reading Journals. Many members have tagged their favorites with the tag: Green Dragon . Our birthdays are here: The Green Dragon Birthday List. Thanks to Morphidae for her hard work on this list! Want to put pictures in your posts? Click here. Want to see our Cluster Map? Click on this:
If you are on FaceBook we have also have The Green Dragon at Library Thing Forum over there. Here is Morphidae's 1001 Fantasy Challenge thread. Here is her list of 111 Science Fictions Books to Read Before a Supernova Kills Us All, and her list of 111 Books to Read Before Your Brain Atrophies.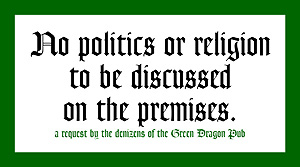 Tópico

Tópico

Messagens

Última Mensagem

Pinned

— ☞ Political and Religious Discussions are Not Tolerated in this Group ☜
44

não lido

/ 44

gilroy

,

Janeiro

30

Pinned

— The New How To Do Fancy Things In Your Posts Thread
302

não lido

/ 302

Cecrow

,

Novembro

11

Pinned

— **Master Thread** Personal Reading Journals - UPDATED
18

não lido

/ 18

pgmcc

,

Março

2021
Karlstar's Reading 2023 The Finale
5

não lido

/ 5

clamairy

,

Hoje

7:02pm
Runes Reading adventure for 2024
3

não lido

/ 3

RuneFirestar

,

Hoje

4:38pm
tardis' 2023 reading record
290

não lido

/ 290

tardis

,

Hoje

2:29pm
Karlstar's Reading 2023.3
243

não lido

/ 243

Karlstar

,

Hoje

12:31pm
Majkia (Jean) and the Quantum Entanglement of Reading - 2023 - #2
116

não lido

/ 116

majkia

,

Hoje

10:22am
Jim53 reads in 2023
222

não lido

/ 222

Bookmarque

,

Hoje

9:31am
Narilka redacts her reading in 2023 - part 3
111

não lido

/ 111

Jim53

,

Hoje

9:07am
Bookmarque's Padded Cell 2023 - It's a kind of madness (2)
140

não lido

/ 140

Bookmarque

,

Hoje

8:37am
Reading, Life, and Times of Gilroy 2023
123

não lido

/ 123

gilroy

,

Hoje

8:07am
Book Bullets from the Dark Side - Darth Heather 2023
151

não lido

/ 151

AHS-Wolfy

,

Hoje

7:09am
The mattries37315 reading thread of 2023
137

não lido

/ 137

pgmcc

,

Hoje

6:38am
Bad Joke of the Day 15
133

não lido

/ 133

foggidawn

,

Ontem

8:30pm
Haydninvienna: Dunroamin' (or Villa Costa Lotta)
80

não lido

/ 80

haydninvienna

,

Ontem

7:31pm
Clam Devours Books & Shares Cheese ❂ 2023 ~ Part IV ❂
208

não lido

/ 208

foggidawn

,

Ontem

9:27am
Jill Rummages Among Her Books in 2023 - Part the Fifth
23

não lido

/ 23

jillmwo

,

Ontem

8:32am
PGMCC explores the Biblioverse in 2023: Chapter 6
169

não lido

/ 169

Jim53

,

Quinta-feira

9:19pm
We will miss them: Green Dragon's obits - Part VII
90

não lido

/ 90

theretiredlibrarian

,

Quinta-feira

5:45pm
Marissa Hits the Books in 2023
102

não lido

/ 102

Marissa_Doyle

,

Quinta-feira

12:01pm
Weekend plans: Dec 1 -3
16

não lido

/ 16

Darth-Heather

,

Quinta-feira

10:40am
NorthernStar's Notes for 2023
231

não lido

/ 231

NorthernStar

,

Quinta-feira

12:20am
Sakerfalcon reads again in 2023
190

não lido

/ 190

jillmwo

,

Quarta-feira

5:53pm
The Read goes ever on and on...MrsLee 2023 chapter 4
207

não lido

/ 207

jillmwo

,

Quarta-feira

5:46pm
LitRPG Books
7

não lido

/ 7

Darth-Heather

,

Quarta-feira

11:47am
Beautiful Book Covers 2
140

não lido

/ 140

Bookmarque

,

Quarta-feira

9:12am
✬ Get yer red hot bargains here! ✬ Part 6
290

não lido

/ 290

fuzzi

,

Terça-feira

3:53pm
Another year's reading and exploring with Hugh: mark 2023, part 2
149

não lido

/ 149

pgmcc

,

Segunda-feira

8:28am
Great last lines
19

não lido

/ 19

Jim53

,

Sábado

9:02pm
2023, Catzteach's adventures in reading
185

não lido

/ 185

MrsLee

,

Sábado

1:26pm
Meredy's 2023 reading journal
91

não lido

/ 91

Jim53

,

Sábado

12:17pm
What's your preferred way of deacquisitioning books?
78

não lido

/ 78

scissorsevered

,

Novembro

29
Weekend plans? 11/24-26
31

não lido

/ 31

pgmcc

,

Novembro

28
Sharing some awful news.
11

não lido

/ 11

Sakerfalcon

,

Novembro

28
Official Welcome to the Dragon Thread VI
108

não lido

/ 108

clamairy

,

Novembro

27
Jill Rummages Among Her Books in 2023 - Part Four
221

não lido

/ 221

jillmwo

,

Novembro

25
libraryperilous browses further among her own stacks in 2023
20

não lido

/ 20

LibraryPerilous

,

Novembro

23
Geoffrey Chaucer
3

não lido

/ 3

MyopicBookworm

,

Novembro

23
fuzzi's Rambling on Thread for 2023!
118

não lido

/ 118

fuzzi

,

Novembro

10
Rune's adventures in books 2023
103

não lido

/ 103

pgmcc

,

Novembro

8
Haydninvienna tastes some books
325

não lido

/ 325

haydninvienna

,

Novembro

8
Uncommon and unusual words
56

não lido

/ 56

ScoLgo

,

Novembro

4
stellarexplorer: A New Hope
291

não lido

/ 291

stellarexplorer

,

Novembro

2
SPFBO Fantasy Contest
9

não lido

/ 9

LyonsPen

,

Outubro

28
Wheel of Time TV Series Discussion part 2
22

não lido

/ 22

Karlstar

,

Outubro

19
Wheel of Time TV Series (and books?) Discussion
245

não lido

/ 245

humouress

,

Outubro

18
libraryperilous browses her own stacks in 2023
319

não lido

/ 319

LibraryPerilous

,

Outubro

13
His Dark Materials
13

não lido

/ 13

MyopicBookworm

,

Outubro

12
It's my Thingaversary . . . and I've forgotten the rules
324

não lido

/ 324

clamairy

,

Outubro

11
Bad Joke of the Day 14
274

não lido

/ 274

Nick-Myra

,

Outubro

9
PGMCC explores the Biblioverse in 2023: Chapter 5
204

não lido

/ 204

Narilka

,

Setembro

29
The Read goes ever on and on...MrsLee 2023 chapter 3
251

não lido

/ 251

NorthernStar

,

Setembro

26
Clam Devours Books & Shares Cheese ❂ 2023 ~ Part III ❂
235

não lido

/ 235

Sakerfalcon

,

Setembro

26
Name that book help
1

por ler

/ 1

elabo504

,

Setembro

25
Group Discussion - The Dispossessed - Ursula K. Le Guin
67

não lido

/ 67

conceptDawg

,

Setembro

22
The 'Not Recommended' Thread
55

não lido

/ 55

stuartperegrine

,

Setembro

21
Wolfy's wanderings with the written word (2023 edition)
45

não lido

/ 45

AHS-Wolfy

,

Setembro

18
Rings of Power discussion thread
122

não lido

/ 122

cjredss

,

Setembro

17
Narilka redacts her reading in 2023 - part 2
168

não lido

/ 168

Narilka

,

Setembro

17
LibraryThing Issues
30

não lido

/ 30

clamairy

,

Setembro

6
Jill Rummages Among Her Books in 2023 - Part Three
217

não lido

/ 217

jillmwo

,

Setembro

6
Really Retired This Time
14

não lido

/ 14

Jim53

,

Agosto

30
Bookmarque's Padded Cell 2023 - It's a kind of madness (1)
232

não lido

/ 232

hfglen

,

Agosto

27
photo test
6

não lido

/ 6

theretiredlibrarian

,

Agosto

21
MissBrangwen steps into the pub
62

não lido

/ 62

Karlstar

,

Agosto

20
The Dreamblood Group Read - July - The Killing Moon
29

não lido

/ 29

Sjbraun55

,

Agosto

20
Tane tries to read in 2023 (wish me luck!)
94

não lido

/ 94

Tane

,

Agosto

9
PGMCC explores the Biblioverse in 2023: Chapter 4
216

não lido

/ 216

pgmcc

,

Agosto

6
Lighttower's Reviews & Journal
13

não lido

/ 13

Sakerfalcon

,

Julho

31
NOVEMBER Read - SPOILERS THREAD - Daughter of Time
46

não lido

/ 46

cindydavid4

,

Julho

25
Watership Down
7

não lido

/ 7

MrAndrew

,

Julho

24
Karlstar's Spam-ified reading thread
182

não lido

/ 182

Karlstar

,

Julho

23
Reading only first chapters... an experiment
22

não lido

/ 22

LyonsPen

,

Julho

18
Just a Grandma bragging...
17

não lido

/ 17

Karlstar

,

Julho

15
Authors' series
7

não lido

/ 7

MrsLee

,

Julho

11
Weather Check In!
387

não lido

/ 387

clamairy

,

Julho

11
quick question
13

não lido

/ 13

EGBERTINA

,

Julho

10
The Read goes ever on and on...MrsLee 2023 chapter 2
337

não lido

/ 337

MrsLee

,

Julho

9
Majkia (Jean) and the Quantum Entanglement of Reading - 2023
173

não lido

/ 173

majkia

,

Junho

29
Clam Devours Books & Shares Cheese ❂ 2023 ~ Part II ❂
230

não lido

/ 230

clamairy

,

Junho

26
Mirrored plots
2

não lido

/ 2

MrsLee

,

Junho

20
Jill Rummages Among Her Books in 2023 - Part Two
200

não lido

/ 200

jillmwo

,

Junho

18
Just joined
6

não lido

/ 6

PlatinumWarlock

,

Junho

17
Weekend thread, June 9 to 11, 2023
25

não lido

/ 25

Sakerfalcon

,

Junho

13
Haydninvienna on the desert island: Richard tries to read the classics in 2023
331

não lido

/ 331

Bookmarque

,

Junho

10
Random thoughts and updates from The Retired Librarian
7

não lido

/ 7

pgmcc

,

Junho

8
New to the pub
27

não lido

/ 27

Karlstar

,

Maio

29
Jukka's Literary Journeys
40

não lido

/ 40

justjukka

,

Maio

25
UK publisher giveaway
2

não lido

/ 2

Maddz

,

Maio

21
New Tolkien Book! The Road Goes Ever On and On
13

não lido

/ 13

Karlstar

,

Maio

20
2023 resolutions - 'fox's reads
28

não lido

/ 28

Jim53

,

Maio

13
New Butterflies named for Sauron!
14

não lido

/ 14

clamairy

,

Maio

10
Narilka reads in 2023
175

não lido

/ 175

Narilka

,

Maio

3
PGMCC explores the Biblioverse in 2023: Chapter 3
187

não lido

/ 187

pgmcc

,

Maio

1
Book Discussion: The Golden Compass - Contains SPOILERS! Finish the book first!
46

não lido

/ 46

Zelia_B.

,

Abril

27
Book Discussion: The Silmarillion
122

não lido

/ 122

haydninvienna

,

Abril

25
This Younger Generation...lol moment
26

não lido

/ 26

MrsLee

,

Abril

7
School Librarian Day
7

não lido

/ 7

Karlstar

,

Abril

6
Roald Dahl
48

não lido

/ 48

Marissa_Doyle

,

Abril

3
This is a feature balloon