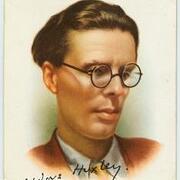 Aldous Huxley
(1894–1963)
Conhecimento Comum
Nome legal

Data de nascimento

Data de falecimento

Localização do túmulo

Sexo

Nacionalidade

País (no mapa)

Local de nascimento

Local de falecimento

Causa da morte

Locais de residência

Educação

Ocupações

Relações

Huxley, Leonard (father)
Huxley, Matthew (son)
Huxley, Julian (brother)
Huxley, Laura Archera (wife)
Huxley, Thomas Henry (grandfather)
Ward, Mary Augusta (aunt) (

mostrar todos

11)
Arnold, Matthew (great-uncle)
Ward, Thomas Humphry (uncle)
Arnold, Thomas (great-grandfather)
Huxley, Anthony (nephew)
Huxley, Francis (nephew)

Prémios e menções honrosas

Royal Society of Literature Companion of Literature (1962)
American Academy of Arts and Letters (Foreign Honorary ∙ Literature ∙ 1960)
American Academy of Arts and Letters Award of Merit (1959)
James Tait Black Memorial Prize (1939)


Fatal error: Call to undefined function isLitsy() in /var/www/html/inc_magicDB.php on line 425


Aldous Leonard Huxley (26 July 1894 – 22 November 1963) was an English writer and a prominent member of the Huxley family. Best known for his novels and a wide-ranging output of essays, Huxley also edited the magazine Oxford Poetry, and published short stories, poetry, travel writing, film stories and scripts. He spent the later part of his life in the United States, living in Los Angeles from 1937 until his death.
Estatísticas
Obras

256

Also by

92

Membros

90,258

Popularidade

#109

Avaliação

3.9
Críticas

1,211

ISBN

1,629

Línguas

36

Marcado como favorito

274